Eggplant
Last week Cooperative Extension conducted its first "Cooking with Seasonal Foods" program, where participants prepared a variety of fresh dishes featuring summer fruits and veggies, including eggplant. Much to everyone's surprise our eggplant recipes were delicious and a top favorite of all the dishes prepared. With that tasty eggplant experience, I want to encourage you to venture outside of your usual choice of veggies this week  – visit your local farmers market to find fresh eggplant and be prepared for a new food adventure.
Introduction to eggplant. Eggplant is a member of the nightshade or potato family, which also includes tomatoes and hot peppers. Eggplants can be purple, green, white or striped, pear-shaped or cylindrical and the size of a golf ball to a football. The original eggplants were small, white, and egg-shaped, thus the name "eggplant". Thomas Jefferson is credited with the introduction of our familiar purple variety eggplant to North America. The early Asian varieties were very bitter to the taste, but cultivation and crossbreeding have greatly improved the flavor.
Eggplant nutrition. Eggplant is a very good source of fiber, potassium, copper and thiamin. It is also a good source of vitamin B6, folate, magnesium and niacin. One-half cup of raw eggplant has about 11 calories.
Selecting and storing eggplant. Look for heavy, firm fruit with unblemished skin and a fresh velvety-green stem. Choose smaller eggplants – they typically have fewer seeds, thinner skin, and tend to be sweeter, more tender, and less bitter. Wrinkled, loose skin is an indication of age, and the eggplant will be more bitter. To determine if an eggplant is ripe, press your finger lightly against the skin – if it leaves a light imprint, it is ripe. Another method to determine the ripeness of eggplant is to rub two eggplants together – fresh eggplants should "squeak". For the best flavor, purchase only what you'll prepare within a couple of days and store at room temperature. Fresh eggplant does not like cold and will get chill damage, even after being in the refrigerator for one day.
Preparing eggplant. Wash eggplant just before using it and cut off the cap and stem. Eggplant may be cooked with or without its skin. Large eggplant and most white varieties have thick, tough skin and should be peeled prior to cooking with a vegetable peeler. Some recipes will instruct you to salt eggplant
Talkin' texture. Eggplant has a very spongy texture, which is important to note when determining how to prepare this vegetable. Cooks will find that eggplants shrink in volume when cooked and when fried or sautéed, raw eggplant pieces soak up lots of oil. Some recipes will recommend salting slices to draw out moisture and as a way to remove the bitterness sometimes found in older eggplants. Some culinary experts suggest that microwaving eggplant works well to remove moisture.
Let's get cookin'. Unlike many vegetables, eggplant is not harmed by long cooking. An undercooked eggplant can have a chewy texture, although overcooked eggplant is just very soft. Do not cook in an aluminum pot because the eggplant will become discolored. Spices that enhance its flavor include allspice, basil, bay leaves, garlic, chili powder, oregano, sage, thyme, marjoram, and parsley. Eggplant is most often paired with tomatoes or onions.Here are several ideas for preparing eggplant:
Stir-fry: Add eggplant to your stir-fry, along with other hard vegetables such as celery and onion, so it cooks thoroughly.
Add to pizza: Top a pizza with cubes of eggplant. Add tomatoes, black olives and red onion.
Grill with kebabs:  Add a little something new to your kebabs. Cut eggplant into cubes and add along with your usual kebab favorites.
Baking: To bake a whole eggplant, pierce the skin with a fork several times, and cook it at 400 degrees for 30 to 40 minutes. Baking whole eggplants produces a soft flesh that is easy to mash or puree.
Bread, bake and serve:  Slice eggplant into rounds. Dip into beaten egg whites, then in bread crumbs. Sprinkle with Parmesan cheese and bake until tender. Serve on rolls with mixed greens, tomato slices and black olives.
Broiling: Cut the eggplant into thick lengthwise slices, and score them lightly with a sharp knife. Place the slices on a broiler pan or grill; brush them lightly with oil. Broil about 5 inches from the heat, and turn slices when they begin to brown. Eggplant should be cooked for approximately 5 minutes per side.
Microwaving: Eggplant can be microwaved whole, cubed, or sliced. Cooking times vary from 6 to 8 minutes for a whole eggplant to 3 or 4 minutes for a pound of cubed eggplant.
Stewing: Stewed eggplant is called ratatouille. For this dish, eggplant may be stewed alone, or with other vegetables. Simmer, covered with a liquid such as tomato juice, until the eggplant is tender. The cooking time is usually 20 to 25 minutes.
Linda Minges is a registered dietitian with the Gaston County Cooperative Extension (gaston.ces.ncsu.edu) and can be reached for more information on nutrition and food safety topics at 704.922.2127 or linda_minges@ncsu.edu.
Join Gaston County Cooperative Extension's hands-on cooking series to learn how to prepare simple and healthy dishes featuring locally-grown foods. Call 704.865.3291 for registration information – cost is $10 per session. Choose from the following sessions:
Aug 20th – Local Chicken, Tomatoes, Green Beans, Cantaloupe, & Peaches
Sept 17 – Apples, Field Peas, Onions, & Spaghetti Squash
Oct 15th – Local Pork, Acorn Squash, Carrots, Kale & Pears
Nov 19th – Local Beef, Sweet Potatoes, Broccoli, Mustard Greens, & Pumpkin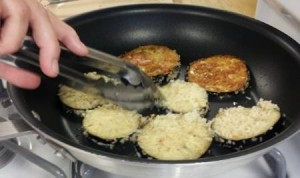 Recipe: Eggplant Lasagna
1 large eggplant (about 1-1/2 pounds), unpeeled, cut into 1/4-inch slices
3 egg whites, lightly beaten
1/2 cup unseasoned dry breadcrumbs
1/4 cup grated, parmesan cheese
2-4 Tbsp olive oil
1 jar spaghetti sauce
1 cup fat-free cottage cheese
¼ -1/2 cup fat-free sour cream
¾ – 1 cup shredded mozzarella cheese
Dip eggplant slices in egg whites; coat lightly with combined breadcrumbs and parmesan cheese. Sauté egg plant in oil in large skillet until browned, about 5 minutes on each side. If additional oil is needed, spray eggplant with cooking spray.
Spoon small amount of spaghetti sauce into 12×7-inch baking dish; arrange half the eggplant slices over sauce. Mix cottage cheese and sour cream; spread half the mixture over eggplant. Repeat layers, ending with remaining sauce.
Bake, uncovered, at 350 degrees until bubbly, about 45 minutes, sprinkling with mozzarella cheese during last 10 minutes.
Was the information on this page helpful?
This page can also be accessed from:
go.ncsu.edu/readext?233751