Eating the Mediterranean Way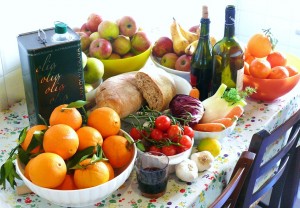 Special contribution written by Shanna Sykes, intern with Solmaz Institute Dietetic Internship of Lenoir-Rhyne University:
Want to prevent chronic health conditions, such as diabetes or high blood pressure? Most chronic diseases can be prevented by lifestyle changes, more specifically diet and exercise. Not only can eating the Mediterranean way decrease your risk of some forms of cancer, it can also decrease your risk of developing Alzheimer's, decrease the risk of macular degeneration, decrease the risk of type 2 diabetes, help manage blood pressure, and reduce the risk overall of cardiovascular disease.
Eating the Mediterranean way is not a fad or diet. Nor is it a flavor profile. It is simply a healthier way of eating. You can incorporate a variety of foods, such as Mexican or Asian, and still eat the Mediterranean way.  When you switch to eating the Mediterranean way, you are incorporating practices that have been proven to help lower your risks of some forms of cancer, diseases, and improve your overall health. The Mediterranean diet is an easy, simple and satisfying way of changing your diet.
Eating the Mediterranean way emphasizes:
Using healthy oils, like olive or canola, instead of butter or margarine
Using a variety of spices and herbs to season food
Eating a wide variety of vegetables and fruits, at least 9 servings a day
Choosing whole grain foods, instead of refined-grain products
Lean protein foods, such as fish, nuts, beans, and poultry, instead of processed meats/red meats
Reducing your intake of sugary beverages and foods
Adding more physical activity into your day
Enjoying meals and eating slowly
How do you eat the Mediterranean way?
Eat a variety of fruits and vegetables at every meal
Go for lean protein options, such as fish and chicken
Make all your grains whole-grain options – such as whole-wheat breads, brown rice, and oatmeal
Choose nuts and seeds as snacks
Use healthy fats, such as olive and canola oil – limit your saturated fats, such as butter and margarine
Try this lunch wrap recipe and see why eating the Mediterranean way can be healthy AND delicious:
Ingredients
1 (8-inch) 100% whole-wheat tortilla
1 tablespoon basil pesto
½ cup mixed greens
1 ounce Pepper Jack or American cheese, sliced
½ cup chopped tomatoes
½ cup chopped cucumber
½ cup sliced avocado
1 fresh green chili, finely diced (optional)
Directions:
Warm the tortilla in microwave for 10 – 12 seconds.
Spread the basil pesto evenly all over the tortilla.
Place mixed greens, cheese slice, tomatoes, cucumber, avocado, and green chili on one side of the tortilla.
Wrap all ingredients in the tortilla by carefully folding in the sides and rolling the side with ingredients towards the empty side.
Source: Med Instead of Meds, created by a group of nutrition and health professionals from NC State University and NC Division of Public Health. Visit us online for a variety of recipes and information on eating the Mediterranean way.
Learn More with Upcoming Workshops
Gaston Extension is featuring the series "Eating Smart the Mediterranean Way" over the next few months. These workshops are inexpensive and feature all the key elements of the Mediterranean diet. Upcoming workshops include:  Fats & Nuts; Fruits, Vegetables & Whole Grains; and Rethink Your Sweets. Contact Linda J. Minges for more details.
Was the information on this page helpful?
This page can also be accessed from:
go.ncsu.edu/readext?458062