Cankerworm Banding Time !!!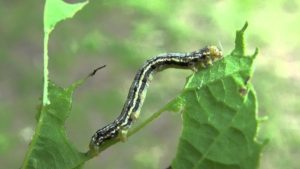 Each spring in Gaston County, we hear the munching of new leaves as inch worms and their droppings fall on our heads. These cankerworms create a nuisance and also damage our valuable trees. However, when you discover this problem in early April, it is usually too late to do anything about it. FALL is the right time to prevent cankerworm damage! Learn how to protect your trees by checking out this NCSU publication.
Also join Gaston County Extension Director, David Fogarty for a live discussion of techniques for banding and protecting your trees at noon on Friday, November 3rd.
Join from PC, Mac, Linux, iOS or Android: https://ncsu.zoom.us/j/519415135
Or iPhone one-tap (US Toll):  +14086380968,519415135# or +16465588656,519415135#
Or Telephone:
Dial: +1 408 638 0968 (US Toll) or +1 646 558 8656 (US Toll)
Meeting ID: 519415135